The New England League was a mid-level league in Minor League Baseball that played sporadically in five of the six New England states (Vermont being the exception) between 1886 and 1949.  In 1897 the league counted 6 teams including the Brockton Shoemakers.  Each team played between 105-108 games during the season but did not have a playoff.  The final standings were:
TEAM:                                       Wins         Losses
Brockton Shoemakers              70              37
Newport Colts                            70             37
Pawtucket Phenoms                 54              51
Fall River Indians                      47              59
Taunton Herrings                      40             68
New Bedford Whalers               38              67
18 year-old Jimmy Sheckard of the Brockton Shoemakers led the league in Batting Average, Runs and Hits.  Tom News of Pawtucket led the league with 17 Home Runs, Scott Hawley or Newport  led all pitchers with 24 wins and Frank Todd of Pawtucket led all pitchers in Strike Outs with 99.
At the season's end Sheckard was signed by the Brooklyn Bridegrooms (later Dodgers) and he finished their season with the team.  From there Sheckard played 17 seasons in the big leagues putting together a stellar career during which he led the league in several categories several times.  He even owned the record for being walked the most times in a single season (147 in 1911) which stood until another man with strong Massachusetts connections came along, Mr. George Herman "Babe" Ruth.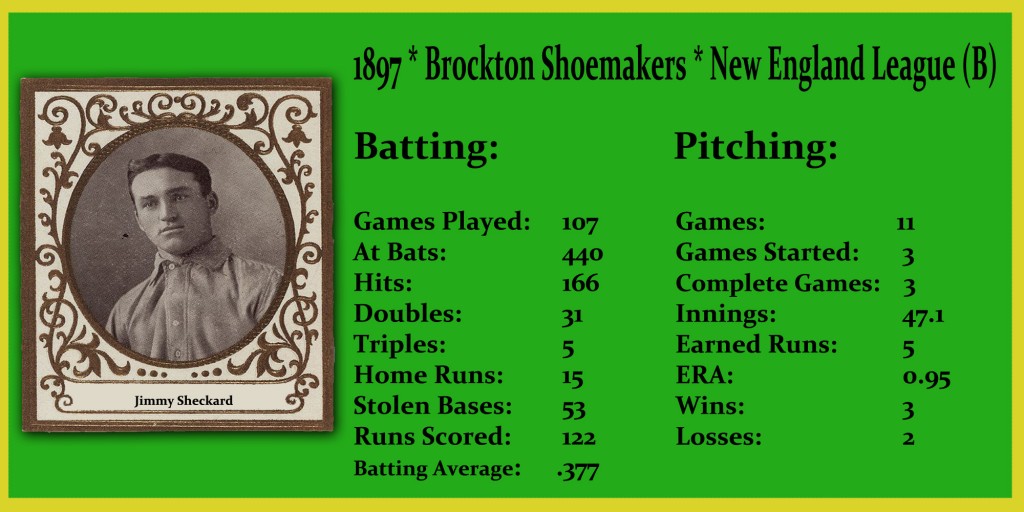 Samuel James Tilden Sheckard
Bats: Left, Throws: Right
Height: 5′ 9″, Weight: 175 lb
Born: November 23, 1878 in Upper Chanceford, Pennsylvania, US
Died: January 15, 1947 in Lancaster, Pennsylvania, US (Aged 68)